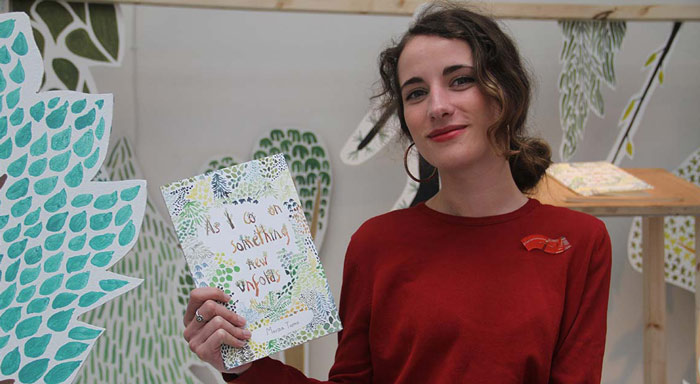 Marina moved to Sweden to attend the Master's program in Visual Communication at one of our country's most esteemed art universities. For her final project she set out to explore how the environment affects the artist's work, but the result turned out somewhat differently. Along the way, she found Publit and got the team involved in the beautiful creation that is my little world and the making of As I go on something new unfolds. We took a moment to talk about her latest book project, the publishing process and the recent exhibition at Konstfack.
Tell us about coming to Sweden and your project at Konstfack!
– I was finishing my Fine Arts Bachelor in Spain, when one of my classmates told me about Konstfack and how they had a master's degree called storytelling that my friend thought would really fit me. I was immersed in research about artist studios and their influence in the work, and applied to the program with a project proposal to keep on researching.
When I started the university I found that everything I learned, in class but also just by living in a foreign country, made me change the way I envisioned my work. That led me to change the project into a graphic short story, which in itself, is an explanation of that mindshift.
At what point did you decide to make a book? And how did you learn about Publit?
– When I still wasn't sure what to do, I had to prepare a presentation for my class. I made the presentation with watercolor drawings and small sentences. I was simply telling the story of how I felt so lost and didn't know what to do, and all the things I tried to do that didn't work. Everyone in the room seemed to enjoy the presentation so much, that I felt attracted by the idea of writing my master's report as a graphic story.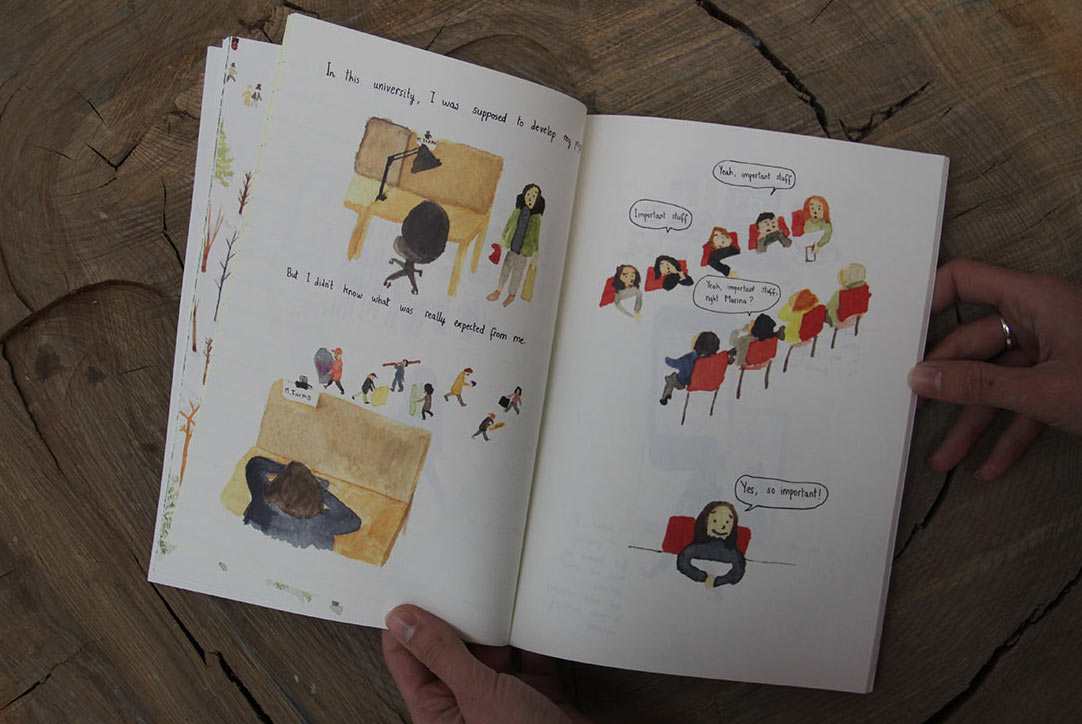 Soon the report took over everything else and it became the book itself. I postponed the stress of printing and/or publishing until I felt ready with the story, and hoped for a miracle to present itself. Luckily, my classmate Oskar turned out to be the miracle-maker. He took me to Konstfack's library and collected all the books he could find that were published through Publit and told me wonders about it. I was saved!
Well, big thanks to your friend Oskar! Was there anything you found particularly easy or difficult about publishing?
– I haven't got much previous experience with publishing. I've only done self published fanzines and one-copy, or very small scale copies of publications (drawings, prints...) in the past. With Publit I found the exporting particularly easy since I used the export in the default settings that I could download on your website. As well as setting my blank document with the instructions suggested on your web. Uploading was also very simple. All in all, I think it was quite intuitive and easy to use for me.
What's your plan for the book? Mass production? World fame?
– The book was just exhibited at Konstfack's Spring exhibition that ended last week. I had set up a space that aimed to represent my watercolored little world, where people could cosy up and read the book in peace. I feel like I would like to continue working with the story and add a couple of spreads at the end, so maybe that will happen soon too.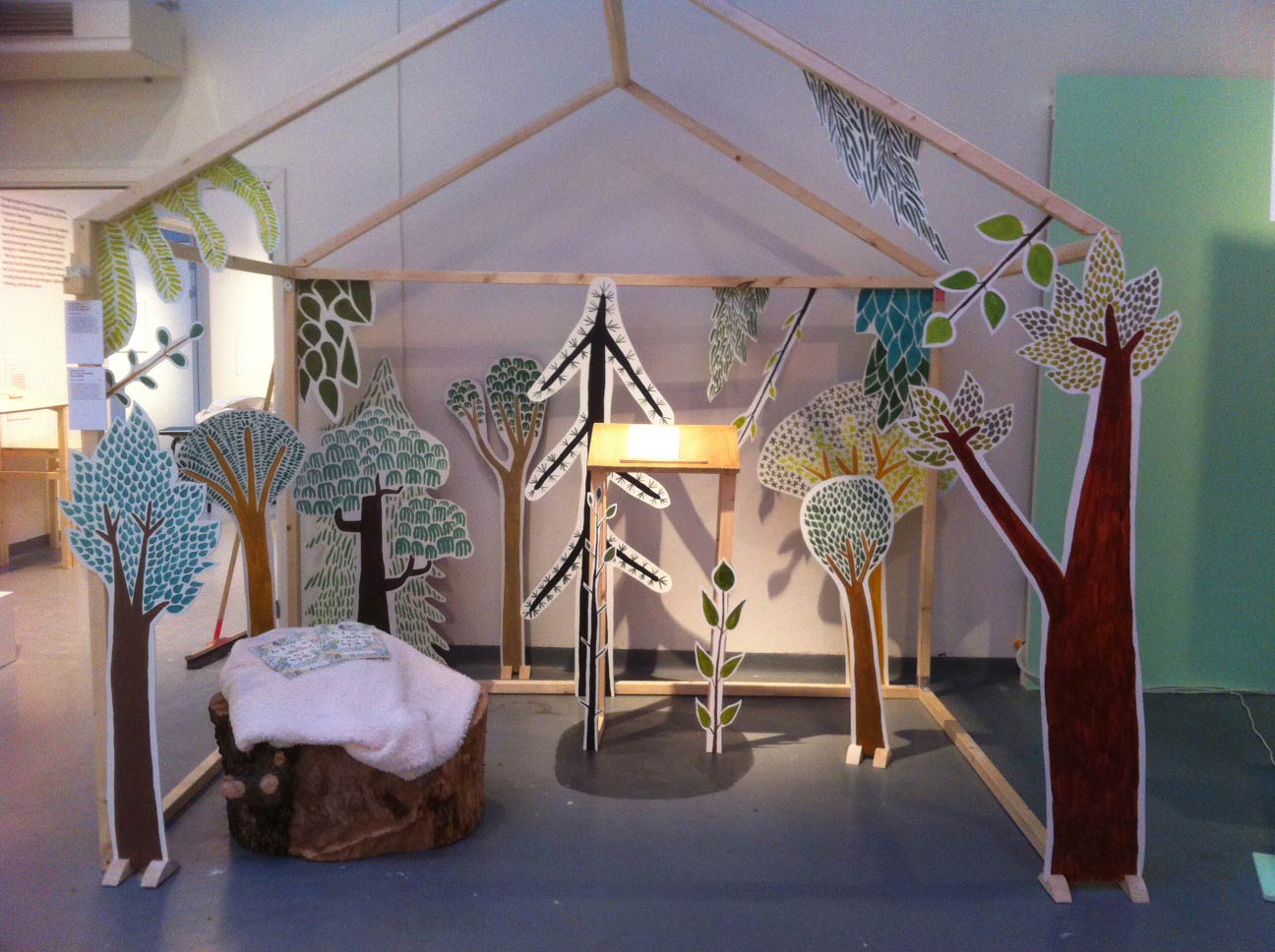 Do you have any other upcoming projects?
– I am developing a huge project on instagram (a full feed illustration!) with animations and many surprises. I had to abandon it for the sake of my master's final project but my next goal is to focus on that.
I have also considered moving to London to work as an art director or as an illustrator at a children's magazine. I love telling stories and would love to make a children's book soon, especially now that I know how easy it would be to publish it :)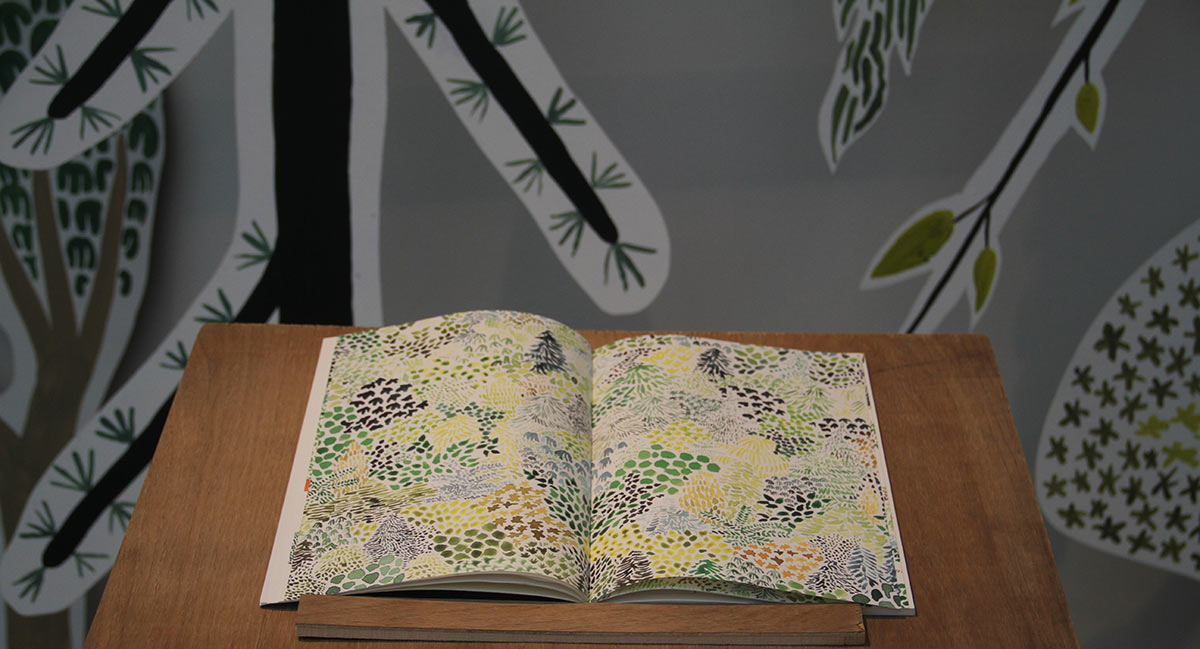 – I could say many good things about Publit, about the attention and help I received during the process, about the good price/quality relationship and the straight forwardness of the use of their service... And much more.
But I think what has meant more to me is that when I received my printed book and flipped through the pages, my heart started beating faster and faster, and it kept on doing that for a while. Not only was I holding the story that I had created, but it was also better than I ever could have expected! Thanks Publit!
Want to learn more about Marina and My little world? Make sure to check out her website here.